The UK has by far the most mature e-commerce market in Europe
Surprisingly, the UK consumer spends much more online than their French or German counterparts, despite the UK economy being similar in size to France and considerably smaller than Germany: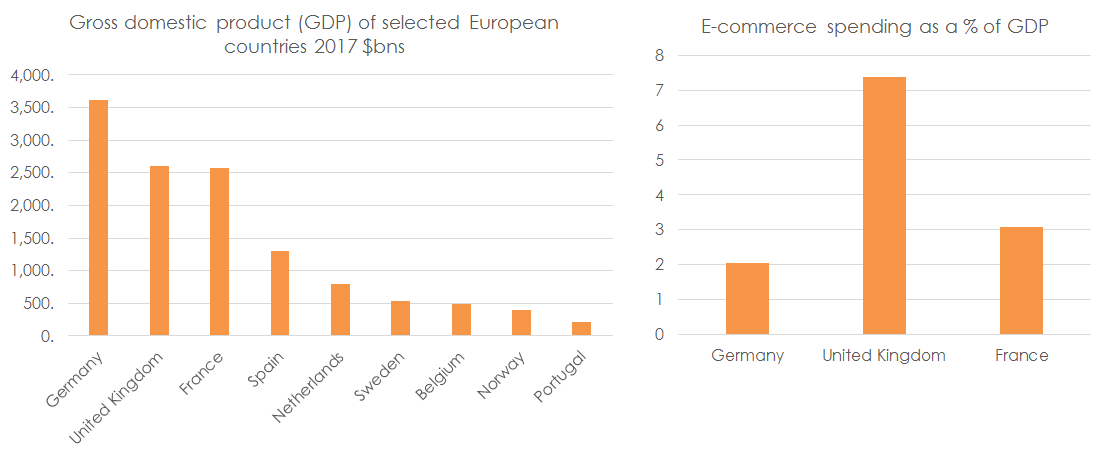 The UK spends a much higher proportion of GDP on e-commerce compared to France and Germany. Perhaps more surprisingly, French consumers spend more on e-commerce than Germany.
This data provides a good illustration of how the UK internet industry is the most mature in Europe, and disproportionately large compared to other European economies.
There are no doubt many complex causes for this. Many US companies have chosen to create their headquarters out of the UK for a combination of reasons; easier cultural assimilation, and perhaps also the perception of a relatively pro-business regulatory approach compared to often more tax-heavy continental European political regimes.
Furthermore, the UK has achieved notable success in a range of subsectors – such as online retail with ASOS and Net-a-Porter achieving international success, fintech with pioneering companies like TransferWise and WorldRemit, online gambling with powerhouses like Betfair, Bet365 and PartyGaming (historically), mobile games with the likes of King having substantial UK operations, online travel (e.g. Hotels.com has a strong UK heritage, Skyscanner) and many other sectors.
Because the UK was one of the first internet ecosystems to emerge in Europe, this has also created some economies of scale; because there were other internet companies in London, it made hiring a CTO, or CMO or CPO much easier as there was a ready made talent pool to dip into. Try and set up a new internet business or country operation in a more emerging market, and you might well find obtaining strong talent much more difficult.
Perhaps there are also cultural elements at work here – maybe us Brits just prefer online shopping more as an experience compared to other countries, who may have more affection for physical retail.
There is a very real sense in which the French and German internet markets are relatively immature and smaller than they should be, despite notable successes such as Zalando or Leboncoin. This should create huge opportunities to take successful business models that have worked well elsewhere and extend them to those markets. French and German internet businesses looking to expand will often have to look abroad for talent, as there is often insufficient talent (particularly in functions like engineering and product) in the local market.
For us at Neon River, this means that our work is increasingly international – whether that is working with clients outside the UK – or looking to relocate candidates from abroad to mitigate for a lack of local talent in a particular market.